DKE is never short on SDCC exclusive's and this year doesn't seem any different. Check em out below and be sure to visit Booth 5045 while at SDCC and grab some awesome toys
Update!
This time around for DKE exclsuives we get a piece from Alex Pardee. Bunnywith Affinity for Slave Women will be available in two colorways, white and flesh, and limited to 100 of each and is 4-inches long. With a price tag of just $12 how could you not want this? Oh and by the way…the pices is sculpted by the ever awesome George Gaspar from October Toys and Toy Break fame.
Another Suckadelic piece for SDCC. This time it's Gay Gotham. This is a carded 2 pack limited to 50 pieces and will sell for $125.
Yet some more updates from DKE! First is Badass: Forest by Kronk and Pobber toys. Limited to 40 pieces with a price tag of $95
Next up is something a bit unique in that it uses ceramics as the medium. These are creations from Robin VanValkenburgh. Both Bernice Beggadear and Beatnik Owl Dude have been produced by Robin in signed and numbered 50 piece editions. They will retail for $50 each.
And lastly is Big Boner by Ron English and BlackBook Toy.
Retail on these $110 and is limited to 50 pieces.
I think DKE is trying to rival Gentle Giant when it comes to number of exclsuives. Here are two more they have just announced. First is the GID Count Calorie by Ron English. These are limited to 100 pieces and will be $100 a piece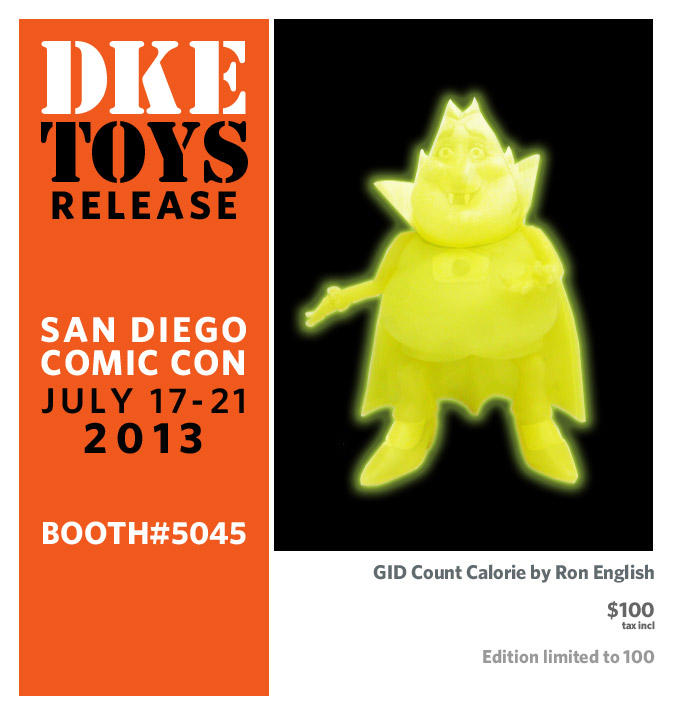 Next up is part of Suckadelic Gay Empire line of toys. Limited to 50 pieces at $75 a piece your childhood will never be the same with these Little People styles Bert and Ernie figures